---
News
Posted by Kay Nelsen on
Take the Time to Be Pleasant to All People As I sit here in a hotel in Tucson, Arizona waiting for the gem shows to begin, I'm wondering a bit...what will the affirmation be for this month? What area can I focus on where I, and possibly others, might need improvement? I arrived in Tucson last night on a crowded plane, after sitting next to a gentleman that I'll probably never know, likely will never see again, or be able to recognize tomorrow. We shared a brief space of time, but that was about it...nothing more. This man was extremely...
---
---
Posted by Kay Nelsen on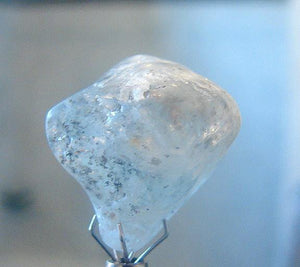 A Fortune Stone of Truth Crystal is an Aquamarine Crystal included with Goethite. There aren't a lot of these crystals around, and I was quite fortunate to be able to acquire a few of these so I could write about them for you.   The Stone of Truth can teach one to enjoy the journey in life while enhancing progression toward the goal. It inspires pragmatism with imagination, bringing energy to pursuits of discovery. The Stone of Truth Crystal also helps one to attune to the ethereal realms, and enhances co-communication with the angels. It also facilitates clairaudience and allows...